One of America's oldest cities, Boston offers unique architecture and landmarks dating from the 17th century to present day. The city is full of unique buildings that stretch across the centuries, with many of the oldest structures still preserved to this day. Boston is also famous for being an origin of the "Federal" style of architecture.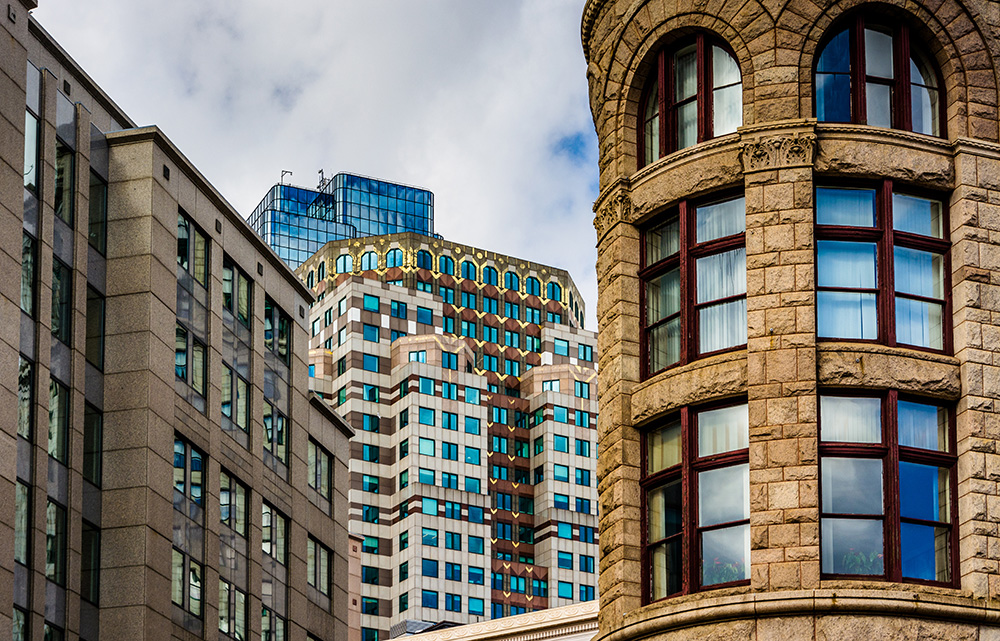 Founded by Puritan settlers, the city's initial architecture stemmed from England and was developed in Georgian and colonial style. Existing buildings still exist from this era, including the Paul Revere House, Old State House and Faneuil Hall. The oldest park in the United States, Boston Common, was established in in 1634 and is still in use today. Following the American Revolution, the Federalist style of architecture was born which was utilized in the development of the Massachusetts State House and the redevelopment of Faneuil Hall. The modern day neighborhood of Beacon Hill includes many examples of these original Federalist styles.
20th century Boston saw the arrival of Art Deco as well as the development of taller structures such as the John Hancock Tower. It was during this time that sports arenas including Fenway Park and Boston Garden were erected. Modern day Boston has seen a revival of skyscraper development including more contemporary structures such as the Millennium Tower. Interestingly, some of Boston's most modern skyscrapers such as One Lincoln Street also incorporate past design styles including art deco.
---
Architecture & Landmarks Details
Faneuil Hall Marketplace   
Address: 4 South Market Building, Boston, MA 02109, United States
Phone: +1 617-523-1300
Business Hours:
– Monday 10am–7pm
– Tuesday 10am–7pm
– Wednesday 10am–7pm
– Thursday 10am–7pm
– Friday 10am–8pm
– Saturday 10am–8pm
– Sunday 11am–6pm
Website
---
Bunker Hill Monument     
Address: Monument Sq, Charlestown, MA 02129, United States
Phone: +1 617-242-5641
Business Hours:
– Monday 10am–5pm
– Tuesday 10am–5pm
– Wednesday 10am–5pm
– Thursday 10am–5pm
– Friday 10am–5pm
– Saturday 10am–5pm
– Sunday 10am–5pm
Admission cost:
– FREE
Website
---
Harvard Square
Address: Brattle St, Cambridge, MA 02138, United States
Phone: +1 617-491-3434
Business Hours:
– Open 24 hours daily
Website