The city of Havana offers visitors everything from culture to beaches, history to art, entertainment and more. Those seeking to learn more about Cuba and its history will find a wide array of sites dedicated to the various historical events that have happened in Havana. For visitors seeking an outdoor experience, some of the Caribbean's best beaches can be found less than 30 minutes from the city center. Interested in modern Cuban culture? Live music, rum tasting, cigar rolling and more are widely available throughout the city at various sites and venues catered to visitors and locals alike.
---
Havana Club Rum Museum
Formally the Museo del Ron Havana Club, this museum and shopping experience is one of Havana's top tourist attractions with more than 2 million visitors since its inception. Tours will explain in detail how Havana has become the rum capital of the world and showcase the process that the beverage goes through, from the sugar cane farms to international exporting. Most exciting for visitors is the rum tasting that is reserved for the end of the tour, with the ability to purchase some of Cuba's finest rum in the branded retail shop.
Address: Avenida del Puerto 262, esq. Sol, Habana Vieja, La Habana, Cuba
Phone: +53 7 8618051
Operating Hours:
– Monday 9:00am – 4:00pm
– Tuesday 9:00am – 4:00pm
– Wednesday 9:00am – 4:00pm
– Thursday 9:00am – 4:00pm
– Friday 9:00am – 4:00pm
– Saturday 9:00am – 4:00pm
– Sunday 9:00am – 4:00pm
Admission Cost:
– Venue temporarily closed due to COVID19
Website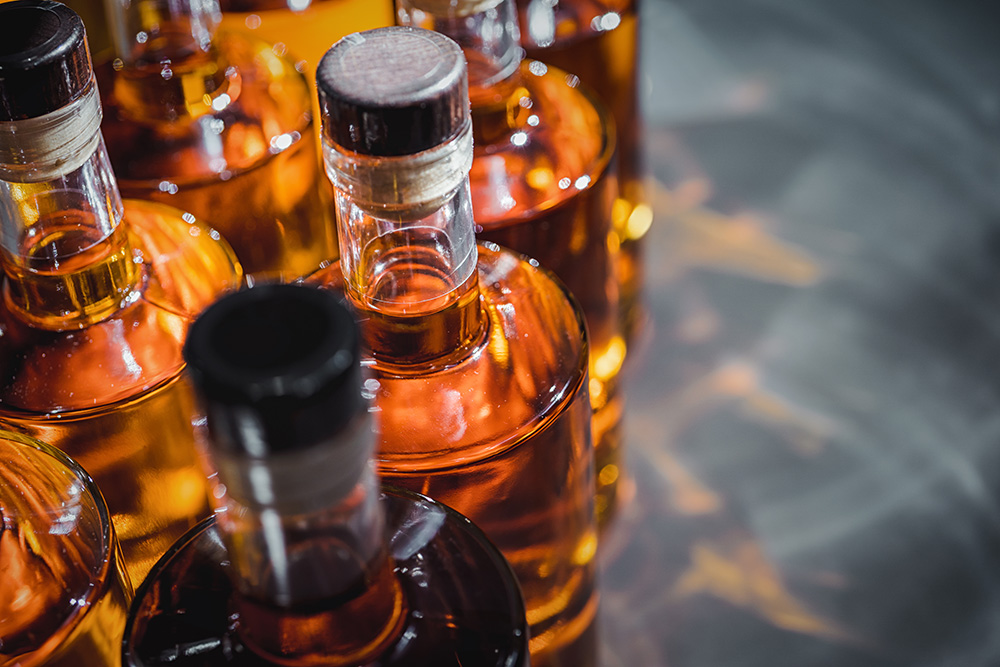 ---
National Capital Building
Formally titled El Capitlio, the building is one of the most visited landmarks in all of Havana. Located on the Paseo del Prado at the exact center of the city, it was modelled after the capital building located in the United States. Taking three years to build, it was the seat of Cuban government until 1959. The location currently houses the Cuban Academy of Sciences as well as the National Library of Science and Technology. Visitors will pay a small admission fee to enter, with an optional upgrade to enjoy a guided tour that explains both interior and exterior aspects of the building.
Address: 4JPR+349, La Habana, Cuba
Phone: +53 7 8603411
Operating Hours:
– Monday 10:30am – 10:00pm
– Tuesday 10:30am – 10:00pm
– Wednesday 10:30am – 10:00pm
– Thursday 10:30am – 10:00pm
– Friday 10:30am – 10:00pm
– Saturday 10:30am – 10:00pm
– Sunday 10:30am – 1:00pm
Admission Cost:
– Admission (without guide): $3 CUC
– Admission (with guide): $4 CUC
Website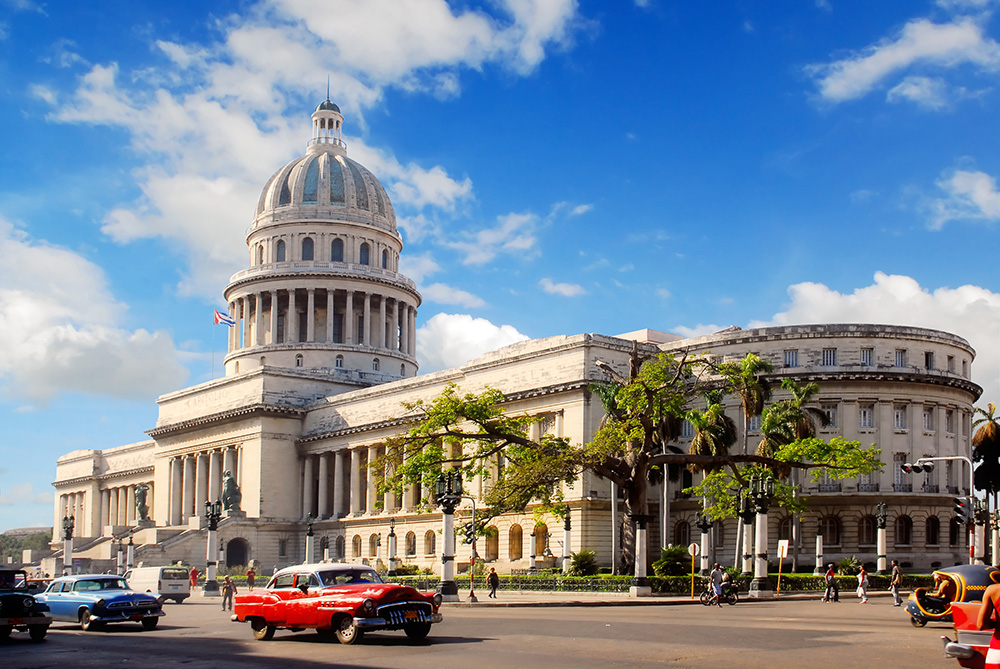 ---
Catedral de San Cristóbal
Casually referred to as the Havana Cathedral, this church is one of eleven Catholic cathedrals in Cuba and is located in Old Havana. Built between 1748 and 1777, the church was consecrated in 1782 and previously housed the remains of famed explorer Christopher Columbus. The cathedral is located in a section of Old Havana that itself is designated as a World Heritage Site by UNESCO. Visitors can marvel at various artworks located within the church, including multiple sculptures, paintings and frescoes.
Address: Empedrado, La Habana, Cuba
Phone: +53 7 8617771
Operating Hours:
– Monday 9:30am–5:00pm
– Tuesday 9:30am–5:00pm
– Wednesday 9:30am–5:00pm
– Thursday 9:30am–5:00pm
– Friday 9:30am–5:00pm
– Saturday 9:30am–5:00pm
– Sunday 10:30am–12:00pm
Admission Cost:
– FREE
Website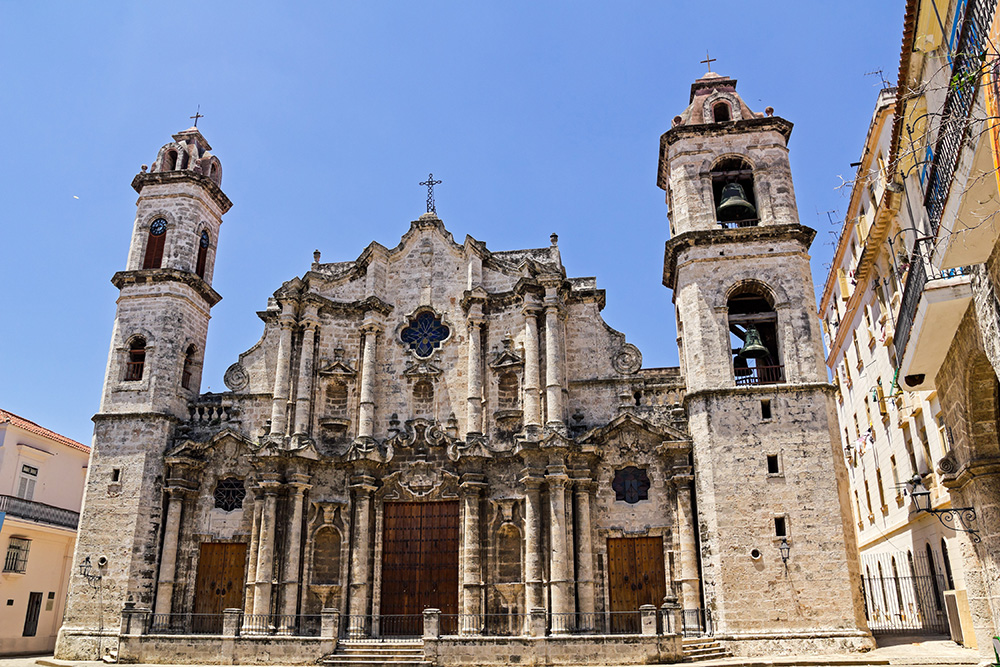 ---
La Habana Vieja
Commonly known as Old Havana, this is one of the city's most popular districts for visitors and one of the busiest locations throughout Cuba. Visitors can see the more than 900 buildings of historical significance throughout the region, with architecture that includes everything from 17th-century baroque, neoclassical and Art Deco. The area is a UNESCO World Heritage site and offers everything from cobblestone plazas and streets to museums, galleries, cafes, live music and more. It is considered the touristic center of Havana and is where many of the key attractions for visitors are located.
Address: Havana, Cuba (confirm how to label this as it is an entire district)
Phone: N/A
Operating Hours:
– 24 Hours
Admission Cost:
– FREE
Website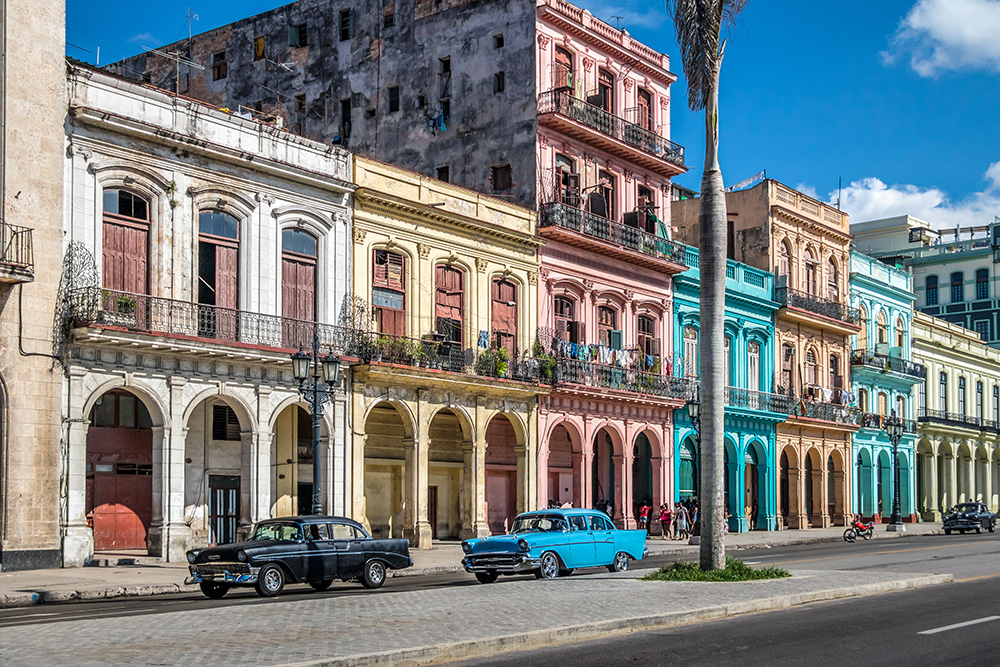 ---
Gran Teatro de La Habana
Home to the Cuban National Ballet, the Grand Theater of Havana was built in 1914 and is located in Paseo del Prado. The on-site facilities include various theaters, a concert hall, video screening room and conference rooms. There is also an art gallery and choral center. The venue plays host to the International Ballet Festival of Havana every two years and has done so since 1960. The architecture includes various sculptures made of white marble, as well as a bronze sculpture in the lobby which was revealed in 2018.
Address: 10600 La Habana, 458 Paseo de Martí, Parque Central, Cuba
Phone: +53 7 8613077
Operating Hours:
– Monday 8:30am–10:00pm
– Tuesday Closed
– Wednesday Closed
– Thursday Closed
– Friday 8:30am–10:00pm
– Saturday 8:30am–10:00pm
– Sunday Open 24 hours
Admission Cost:
–  Varies based on event
Website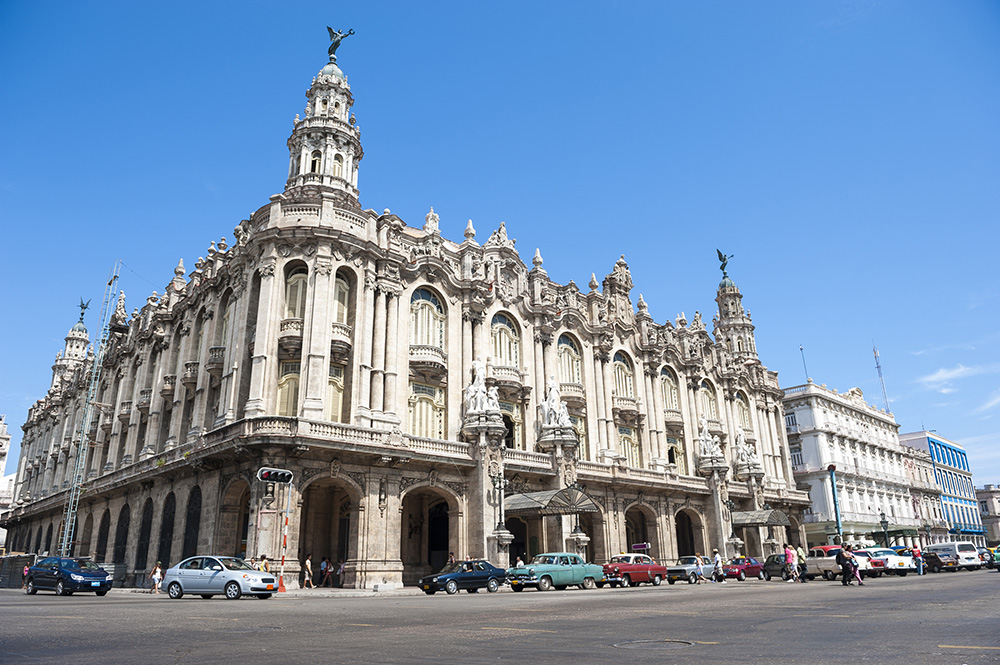 ---
Playas del Este
Located to the east of Havana, Playas del Este is a long stretch of white sand beaches that make for a great trip out of the busy city center. Nearly 6 km long, they are located a short 20 to 30 minute drive from Havana and are popular amongst locals and visitors alike. Generally more crowded on weekends, the area includes several bars and water sports centers. Rentals include jet skis, catamarans and other ocean sport options. Beachside restaurants offers fresh seafood and local beer. The ocean is clear and offers ideal swimming conditions.
Address: Playas del Este, Havana, Cuba
Website